Commercial Atria & Pool Enclosures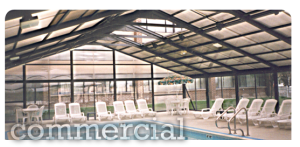 Atria commercial coverings are designed to provide the most advanced commercial aquatic environments available on the market today. Each atria commercial spa and pool enclosure includes a full, state of the art engineering package, meeting your design specific requirements. Our structures are designed to give you more than just the average indoor pool or spa enclosure.
Features
Quality components manufactured by CCSI International, Inc.
Opening roof system, consisting of motorized roof panels that slide open and closed at the touch of a switch, allowing for natural ventilation and clean, fresh air.
Light transmitting, polycarbonate roof panels.
Tempered safety glass side walls.
Heavy duty, corrosion resistant, aluminum frames and rafters that stand up to moisture and chemicals from pools and spas; far better than conventional construction.
Baked on powder-coated finish in a wide variety of color choices.
Stainless steel fasteners.
Factory welded connections.
Engineering details will be supplied as certified by a registered firm and carry a State of Illinois seal as necessary.
Color Options
CCSI International, Inc. offers you any color you'd like for enclosed pool projects like commercial inground pool enclosures, outdoor covered pools, and domes. Your choice of color options allow you to add an enclosure that will blend well with the design and color of your business and promote an aesthetically pleasing aquatic atmosphere.
Benefits of a Commercial Atria Cover
CCSI International, Inc. provides commercial atria covers and pool enclosures for a wide range of businesses nationwide. Some of the businesses who can benefit from our products include:
Restaurants: Turn your patio into a year-round eating space with one of our custom-designed commercial atria coverings. Our enclosures are available with retractable roofs so your customers can still enjoy the fresh air when weather permits.
Hotels: Want to turn an expensive and costly outdoor pool into a luxurious year-round spa? A commercial pool dome from CCSI International, Inc. lets your guests enjoy a swim any time of year. Best of all, our pool enclosures keep leaves and bugs out, saving you time and money on maintenance.
Fitness Centers: Trainers and physical therapists have been espousing the benefits of swimming for years — if your clients are put off by a dirty pool, lack of privacy or inclement weather, they're missing out on a vital source of exercise! With a commercial indoor pool dome, you'll attract more clients and raise the profile of your center.
American Made Quality You Can Count On
In today's economy, business owners need to know a potential investment will provide them with years of reliable service. Each of our commercial atria coverings is designed and made in our Grand Prairie, Illinois facility from quality components that are built to withstand any weather condition. Contact CCSI International, Inc. today for more information!