If your hotel, resort or club features a hot tub and you'd like to give your patrons more value, add a commercial spa enclosure from CCSI International. A weather-safe enclosure will keep debris out of your spa while providing your guests with the comfortable experience they deserve.
High-Quality Commercial Hot Tub Enclosures Built to Last
A hot tub enclosure gives your patrons:
Added comfort. Your guests will enjoy relaxing in the spa every day of the year, whether it's snowing, raining, windy or sunny. Add a retractable roof or skylights, so getting the best of good weather is easy.
A pest-free, clean environment. Keeping your spa clean is easier when you add an enclosure. Keep leaves, branches, pests, insects and other irritating problems at bay. That saves your employees time and gives your guests a more comfortable experience.
Improved safety and privacy. Limit exposure to unwelcome guests and attention when you add an enclosure — without changing the outdoor ambiance of your hot tub's location.
Value for the money. Your guests expect value when they visit your business. Give it to them with year-round access to your spa.
Easy ownership. Safe and durable materials make every CCSI International hot tub enclosure a reliable bet for years to come.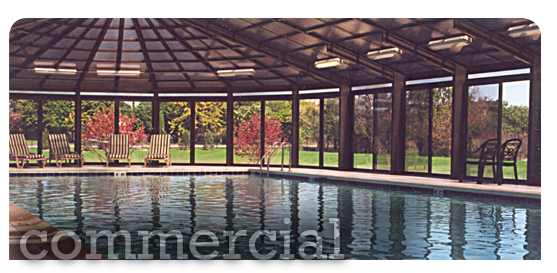 Enhance the Value of Your Property with a Spa Enclosure
CCSI International customizes beautiful hot tub enclosures for every business. You can get:
A retractable roof or skylight. Give your patrons an outdoorsy experience when they want it, and indoor comfort when they need it. You'll appreciate how simple adding or removing the retractable roof or skylight is.
Outstanding quality. CCSI International uses corrosion-resistant aluminum and tempered safety glass. You'll appreciate your enclosure's durability for years to come because it will resist damage caused by moisture and spa chemicals.
A custom look to enhance your property. Nearly unlimited colors and design options ensure your enclosure will enhance the value of your property.
Custom Design Services for Commercial Hot Tub Enclosures
Many of our clients have outdoor enclosure needs that don't fit a single purpose. Our team can help you create a custom spa cover, atria or other structure that's engineered to meet your specific requirements. Let us go over your budget, your wants and your must-haves to create a custom design for your home or business.
As with all our products, you'll have the freedom to select the materials, colors and architectural add-ons. All custom enclosures are built in our Garden Prairie, Illinois factory and installed by one of our trusted local partners. Get started today by contacting CCSI International, Inc. by phone or email.