Use Your Spa Year Round with One of Our Stylish Residential Hot Tub Enclosures
Isn't it time you got the most out of your hot tub or home spa? An enclosure from CCSI International is a handsome and functional addition to your home that gives you year-round access to your favorite outdoor amenity. Our residential spa and hot tub enclosures create an atmosphere of comfort, no matter what the weather!
Why Cover Your Home Hot Tub or Spa?
Enjoy the benefits of your hot tub all year long when you add an enclosure to your home. You'll love how your enclosure provides:
All-weather comfort. Who says you can't enjoy your hot tub when it's snowing? You'll love warming up in your spa, regardless of the weather, when you add an enclosure from CCSI International.
A pest-, pollution- and debris-free environment. Keep pests, air pollution and nature's debris out of your spa area with your enclosure. Forget about cleaning leaves, branches and other debris out of your spa when you keep it protected from the elements.
Improved safety and privacy. When you enclose your hot tub with a glass barrier, you can enjoy the beauty of your property without worrying about wandering feet or prying eyes!
Added value when you sell your home. Year-round spa use appeals to just about every buyer. Because CCSI International manufactures beautiful structures, you'll also love the way your spa enclosure looks.
High-quality, low-maintenance ownership. CCSI International manufactures every enclosure using tempered safety glass and corrosion-resistant aluminum. CCSI International will build your hot tub enclosure to last for years to come.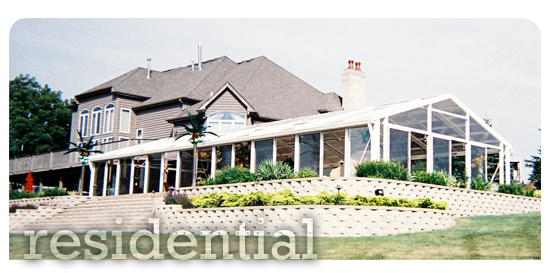 Customizable Outdoor Hot Tub Enclosures
Customize the enclosure that meets your specific needs with CCSI International. You can:
Add architectural features. You'll love your options. Add a retractable roof or a skylight so you can take advantage of the beauty of the outdoors. With a retractable roof, you can get the feel of the outdoors when it's most comfortable and convenient for you.
Secure commercial quality at home. CCSI International builds residential hot tub enclosures to the same quality standards as larger commercial projects. Your enclosure will withstand the elements for years to come.
Avoid damage caused by moisture and spa chemicals. Because CCSI International uses powder-coated aluminum, your structure will avoid damage caused by persistent moisture, heat and chemicals. You can also customize the color to coordinate with the look of your home.
High-Quality Residential Spa Enclosures Made in America With Pride
CCSI International designs and manufactures every hot tub enclosure to strict quality control standards in our American facility. You'll also appreciate our fast turnaround time, which means you can start enjoying your hot tub year-round sooner than you ever thought possible. Our custom enclosure will add functionality, beauty and value to your home — isn't it time you got the most out of your hot tub?
Get in touch with CCSI International today.