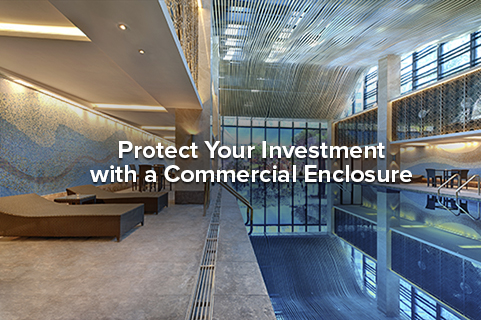 Protect Your Investment with a Commercial Pool Enclosure
A pool is a wonderful amenity. The blue, glistening water during the sweltering summer months can offer a desperately needed respite from the intense heat. The gentle lapping sound of petite waves can soothe your anxieties and produce a relaxing, rejuvenating environment. Pools are successful at attracting a plethora of people; they're a mainstay of apartment buildings, townhouse complexes and established communities all across the United States. In terms of communal entertainment, there isn't much that beats an outdoor pool.
However, there are some obvious drawbacks. Outdoor pools are at the mercy of the elements. Cold air, rain, wind and snow can make a pool inaccessible. In northern climates, outdoor pools are virtually unusable for half of the year. On average, most outdoor pools are usable for six months, limiting the benefits of your investment. Also, the costs associated with winterizing an outdoor pool when it gets cold and readying the water for swimmers when it thaws can be pricey. This cyclical task can certainly take a bite out of the increased revenue you were hoping to generate from your outdoor pool.
Of course, battling the elements isn't a problem only operators of outdoor pools face. Today, outdoor space seems to be more popular than ever. Trendy restaurants have patios, the best hotels have pools and some hospitals and clinics have outdoor Zen gardens. These outdoor spaces are great way to attract clients, customers, guests and patients, but they can also be risky investments. One rainy summer season can wash away the appeal of and the demand for your brand new outdoor space. The solution, and the best way to protect your investment, is to integrate commercial enclosures into the operation of your outdoor spaces.
Industrial Pool Enclosures Are a Business Investment
Outdoor spaces are more popular than ever. To stay competitive, many restaurants and cafes have created patio seating in any and every way possible, from sidewalk seating to rooftop dining. It hasn't always been this way, so many older establishments have had to retrofit existing spaces to serve these functions. This can be accomplished in several ways, and can have positive impacts on the bottom line of the business.
However, even when they consist of little more than plastic tables and chairs, outdoor seating areas can be a sizable investment. Many jurisdictions require permits to be submitted for approval, and the outdoor area can even change the tax status of some businesses. Plus, infrastructure changes must sometimes be made to accommodate outdoor seating. Also, new staff might need to be hired to handle the additional business that will come to the café or restaurant during peak hours.
In other words, this type of outdoor seating arrangement is an investment. And as with any other investment you make in your business, you want to protect it. Besides restaurants, there are many types of outdoor spaces that could benefit from an industrial enclosure, and would therefore be worthy of protection.
Protecting Your Investment With High-Quality Custom Pool Enclosures
Commercial pool enclosures offer an excellent way to protect your investment in outdoor spaces. It's true that, at first, the term "commercial enclosure" brings about images of steel sheds and hastily constructed tin roofs. But modern commercial enclosures have embraced elegant architecture and unobtrusive design in order to ensure that such enclosures become a feature in their own right. Indeed, commercial enclosures can be grand, simple, seamless or make statement. It simply depends on what your business needs.
Modern commercial pool enclosures have several features and amenities. First, many enclosures are made of glass, or are mostly composed of glass. The entire purpose of an outdoor space is to enjoy the fruits of nature, such as sunshine, warmth and the beauty of your surroundings. Window features allow clients, customers and guests to continue to benefit from a natural and serene atmosphere.
Of course, sometimes there's simply no substitute for fresh air, and the direct feel of sun on skin. This is especially true if one of the big attractions to, for example, your outdoor pool is a tanning area or a few dozen lounge chairs. Modern commercial enclosures feature several designs that incorporate retractable roofs or elements. This certainly entails the best of both worlds, allows customers and patrons to use the open space when weather is cooperative, but still keeps the outdoor vibe that makes those spaces so popular in the first place.
Much as with outdoor spaces, commercial enclosures require an initial investment. But the benefit is that they take outdoor spaces that would be inaccessible for as much as seven months out of a year, and make them year-round spaces where patrons can enjoy the feel of an outdoor space.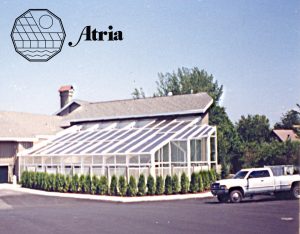 Patio Enclosures for Cafes and Restaurants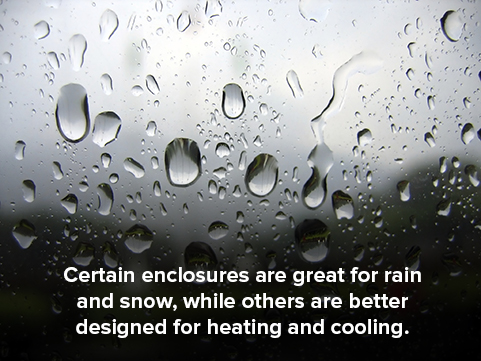 The type of commercial enclosure required to fit your space will depend on several things, not least of which is the traditional climate of an area. Certain enclosures are great for rain and snow, while others are better designed for heating and cooling. Decide whether you want the enclosure to be a year-round space, or if you simply wish to guarantee its use for the duration of the summer. You'll need a vision of what you want that space to be. Once you have that vision, you can choose an enclosure that best suits your needs.
Patio enclosures for restaurants come with several options. Perhaps the most common type of commercial enclosure is a simple awning. Perhaps the most traditional enclosure in a downtown (or downtown-styled) area, is a plastic awning, vinyl awning or fabric roof over an outdoor area. Sometimes these awnings are designed to protect seating from the elements, but more often they're designed to allow customers to congregate outside the establishment while waiting for seating to become available.
There are also more robust options available. Vestibules and enclosures can be custom designed either to protect the entrance and waiting area or, if desired, an entire dinning area. These enclosures usually incorporate wide and tall windows, sometimes with screens, in order to maintain the outdoor ambiance. These enclosures can also be designed to expand and retract, depending on the desired effect and whether the enclosure would encroach on, for example, a sidewalk area. Such enclosures allow diners to maintain confidence in the availability of the space.
It's important to keep in mind, after all, that many restaurants, cafes and bistros make a significant amount of profit by renting out space for special events, such as weddings and business parties. With the threat of inclement weather – and the subsequent loss of business – it's always nice to offer a certain sense of safety and security. Enclosures for businesses promote a guarantee for service on a given date, and provide a competitive edge over neighboring businesses that can't make similar guarantees.
In recognition of the modern food industry's emphasis on branding, most enclosures can be branded in specific colors and built to incorporate specific logos and contact information.
Patio enclosures offer various benefits:
| | |
| --- | --- |
| | Year-round use |
| | Higher Energy Efficiency |
| | Ability to retain heat better than independent space heaters |
| | Extra Branding |
| | Increased privacy for diners |
| | Dry area for diners to wait for a table |
| | Increased use of outdoor space for special events |
| | More reliable revenue stream |
Commercial Enclosure Types for Pools
A commercial enclosure for a pool can have a dramatic effect on the year-round viability of your commercial swimming area. This is a perfect opportunity for hotels, apartment complexes and gated communities to increase the potency of this particular feature. Just as there are a myriad of options when it comes to pool constructions, there are also quite a few options when it comes to pool enclosures, especially with enclosures for hotel pools.
Among the most popular and versatile of these options is a type of commercial enclosure called a "roller," also sometimes called a retractable enclosure. Basically, rollers allow the glass roof to be rolled open when the weather is good, and rolled closed when the weather is poor. This is especially important with a pool, as sudden shifts in temperature – especially drops in temperature – can make your hotel hot spot deserted.
But cold fronts and rain clouds aren't the only weather you need to worry about with an outdoor pool. In fact, you need to worry about just the opposite. If temperatures get too high or UV rays from the sun spike, it can keep patrons away just the same. Luckily, the glass in pool enclosures can be treated to safely block any and all UV rays. A retractable commercial enclosure is an excellent way to make sure hotel guests can safely enjoy the sunlight.
Once the pool enclosure is constructed and installed, you'll immediately notice some added benefits. First, any time a pool area is fenced in, you're increasing safety. According to the Centers for Disease Control and Prevention, installing fencing, barriers or an enclosure around a pool can reduce a child's chances of unintentional drowning by 83%. At hotels and residential complexes, it can be hard to ensure proper protection for children at all times. An enclosure, barrier or fence helps keep everyone safe. Ultimately, a commercial pool enclosure can help keep your water park or pool area fun, enticing, and exciting year round.
Commercial pool enclosures offer various benefits
| | |
| --- | --- |
| | UV Protection |
| | Year-round use of pool area |
| | Greater energy efficiency — room temperature is more constant, so pool is less expensive to heat |
| | Less maintenance |
| | Architectural interest |
| | Increased safety around pool, especially for children |
| | Increased privacy around pool area for guests |
| | More reliable revenue stream |
| | Fewer refunds due to guest cancellations or weather events |
| | Retractable enclosure options for the best of both worlds |
The design of such enclosures can, ultimately, be up to the patron. CCSI International, Inc. has a long history of helping to design and build such enclosures, and we have plenty of experience creating just the effect and feel you're looking for. This could mean transparent siding, skylights, or a tall ceiling. There are many available options, and CCSI International, Inc. can build something perfectly suited to your purpose.
Commercial Enclosures for Other Businesses
Pools and patios aren't the only businesses that could greatly benefit from a commercial enclosure. City parks and community venue spaces, such as stages and grandstands, could make community events weather-independent. Athletic clubs could benefit from a commercial enclosure, as tennis courts could stay open year round. Rooftop enclosures could enable the growing of plants.
Commercial enclosures also offer various benefits:
Greater energy efficiency
Ability to easily cool the space in the summer and warm it in the winter
Increased reliability for residents and customers
A dry place for hotel guests to load and unload luggage
A welcoming atmosphere for hotel guests
Choose Commercial Enclosures by CCSI International, Inc.

With nearly fifty years of experience in creating commercial enclosures, CCSI International, Inc. has the expertise and wisdom to build the perfect enclosure for your commercial space. Our family owned business has remained successful for so long because we work with our customers needs, both in terms of both budget and timeline. This has earned us a worldwide reputation for top quality products. While we look to our prestigious projects, such as those at Essex Inn Chicago, Schriever Air Force Base near Colorado Springs or the many YMCAs we've worked on, for inspiration, we take pride in every single commercial enclosure we construct.
CCSI International, Inc. offers many options when it comes to commercial enclosure construction. Whether you're selecting one of our retractable commercial pool enclosures or a more modest spa enclosure, you can rest assured that we will honor your desires with a sleek, modern design constructed from the best materials available at your budget point.
Regardless of outdoor space, a commercial enclosure is certainly worth the expense – it's a way to protect your investment. Building an outdoor space can be quite the undertaking, from the creation of patio seating to bolstering the structure of a rooftop to creating an entire pool and lounge area. It would not be uncommon for a business to invest hundreds of thousands of dollars into such constructions because usually such projects pay for themselves over time in added revenue.
Enclosures for businesses allow you to maximize revenue from an outdoor area, not only by making it accessible year round and in all types of weather, but also by making it safer, more reliable and more enjoyable. Your customers will always know that your outdoor space is open, even when the weather is not necessarily agreeable.
A commercial enclosure can give you a distinct advantage in an incredibly competitive market place. And CCSI International, Inc. has the skill, experience and expertise to help you create the perfect space for your business. If you're interested in an enclosure, contact us today.