Enjoy Swimming Year Round at Home with Retractable Pool Enclosures
What better way to get the most out of your pool year-round than with retractable pool enclosures from CCSI International? With a residential retractable pool roof, it won't matter if it's pouring rain, beaming sunshine or dumping snow — you'll maximize your enjoyment and your pool investment with CCSI International.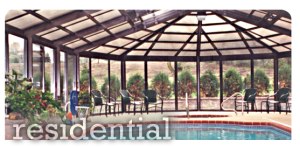 Residential Retractable Pool and Spa Enclosures
Thanks to CCSI International, Inc.'s modular design process, a retractable pool or spa enclosure is a surprisingly affordable addition to your home. And an investment in a new enclosure will add value to your home should you ever decide to sell. Whether you want to take a midnight swim while maintaining your privacy, or you're having the neighbors over for a patio party in the middle of winter, you'll find new reasons to love your residential pool enclosure every day.
Perfect for All-Weather Use of Your Pool
Our retractable enclosures for residential pools provide:
Year-round enjoyment. Get protection from the elements during unpleasant weather or relax in an open-air environment when the weather is perfect. A CCSI International retractable pool enclosure gives you the best of both worlds!
Easy operation. You'll appreciate how simple and fast adjusting your pool enclosure is with products from CCSI International.
Years of reliable service. Every CCSI International retractable pool enclosure is built to last. We make our enclosures using tempered safety glass and powder-coated aluminum.
An affordable way to add value to your home. CCSI International's modular design process makes adding a retractable pool enclosure surprisingly affordable. You'll love how a retractable pool roof adds to the enjoyment of your home — and so will your buyers, should you ever decide to sell!
Custom Retractable Pool Enclosures
Every CCSI International retractable pool enclosure is completely customizable to meet your specific needs. We know that all homes are not the same and want to provide you custom designs to fit your particular dream enclosure. Our pool enclosures are also safe and durable, featuring tempered safety glass walls and strong frames made from corrosion-resistant aluminum. Moisture or pool chemicals won't wear down your enclosure because CCSI International builds every custom frame to last.
If you're looking for special features or custom colors to enhance the appearance of your home, CCSI International can help. Add skylights, pyramids or domes, and powder-coat your frame with a color from our huge selection of options. A team member from CCSI International is happy to help you create a custom enclosure that will satisfy your functional and aesthetic goals.
Quality Pool Enclosures Designed and Made in America
When you choose CCSI International for your retractable pool enclosure, you'll work with a business that proudly designs and manufactures in America. We will build your retractable pool roof and enclosure in our Illinois facility, which assures an exceptional level of quality control and fast turnaround times.
Start enjoying your pool all year long instead of only during the summer months with CCSI International. Host a New Year's Eve pool party or keep your kids active and tired during endless snow days with a retractable pool enclosure — your options are nearly endless! View our project gallery and see why businesses and residences across the country choose CCSI International.
Investing in a pool shouldn't mean only using it for a few months out of the year. Isn't it time you were able to enjoy your pool all year? Learn more, or begin your custom design, by contacting our helpful team today!