Glass Patio Enclosures Give You Extra Indoor Space – Outside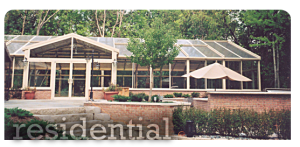 Adding a glass patio enclosure to your property is a great way to increase your property's indoor space, but with the advantage of being outdoors!
Sun streams through the glass windows of your patio enclosure, easily allowing you to bring your outdoor activities inside when the weather gets cooler. During the summer, open the roof panels for fresh air circulation. The roof panels may even be motorized, for easy access to fresh air.
Glass patio enclosures are constructed of tempered safety glass which enforces the structure of the building for lasting use. Heavy, corrosion-resistant aluminum frames and rafters complete a solid additional building to your home and property value.
A Glass Patio Enclosure is Great for Inclimate Weather
Glass patio enclosures are temperature-controlled, so you can get sun and spend time "outside" even in the winter! The benefits of a temperate living space are endless. A patio enclosure gives you and your family the freedom to enjoy summer activities all year long!
If you choose to include your swimming pool in your glass patio enclosure, you increase the number of days to enjoy swimming. With an enclosed patio, you can be "outside" in rain, sleet, snow and other inclimate conditions. The glass also keeps annoying insects away while you enjoy the outdoors!
Glass patio enclosures are also useful for growing plants that need a lot of sunlight but do not last in the outdoor temperatures! You may even decide to start your own greenhouse. You may also use your glass patio enclosure at night for star gazing.
SCustomizable Glass Patio Enclosures from CCSI
Whether you'd like to add brick, color or separate rooms, CCSI will custom build your glass patio enclosure to your specifications. Glass patio enclosures from CCSI International are fully customizable.
Add an outdoor space to your property that is temperate, elegant, enjoyable and beautiful!