Glass Patio Enclosures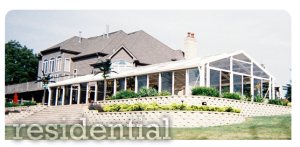 A custom patio enclosure from CCSI International makes an attractive, functional addition to any home. A glass enclosure lets you keep the patio party going when the weather gets bad — they are also great for growing plants year-round or as bright, comfortable spaces to curl up with a good book.
For more than 50 years, CCSI international has been providing custom patio enclosures, pool covers and other structures that let you enjoy your favorite activities and stay protected from the elements. From modest residential enclosures to large commercial projects, we bring a history of quality construction and engineering expertise to every job we complete.
Why Install a Patio Enclosure in Your Home or Business?
A screened-in porch or sunroom enclosure turns an unused corner of the yard into a handy extra room. Glass enclosures also keep your patio clean and prevent wear and mildew buildup on your furniture. For those times when you want a little peace and quiet in your own backyard, our products serve as an effective privacy screen.
From extra storage to comfort and security, there's no shortage of benefits to adding a patio enclosure to your property. And because our enclosures feature an easily retractable roof, none of these have to come at the expense of fresh air.
Home Patio Enclosures
Our home patio enclosures are built to provide convenience and lasting value. Add a glass enclosure to your home and enjoy year-round access to your barbeque, spa or pool. Concerned about privacy? Contact us today to talk to a sales representative about our additional options, for example frosted glass which provides privacy while still letting the light and sunshine in.
Add on stylish flourishes such as a roof pyramid, hipped end or dome, or a convenient motorized retractable roof that lets the fresh air circulate freely. A patio enclosure is also a unique selling feature that will allow your property to stand out should you ever decide to move.
Commercial Patio Enclosures
CCSI International's patio enclosures aren't just for homes — we have fulfilled a wide variety of commercial projects and can create a custom design that meets all the needs of your business. Whether you have specific branding requirements or other considerations, we're the only company offering the flexibility to see your project through to completion.
All our glass patio enclosures are manufactured in our Grand, Prairie, Illinois facility. This allows us to quickly fulfill even large projects and maintain the high standard of quality our commercial customers require. Previous clients have included restaurants, hotels, fitness centers and more. Browse our online portfolio to view examples of what we can do for you.
View Completed Projects in Our Online Portfolio
CCSI International has completed custom patio enclosures, screened-in porches, and pool coverings for residential and commercial clients of all sizes. In everything we do, we strive to produce quality products that meet your requirements — whether they are functional, aesthetic or branding-related. You'll find our patio and pool enclosures in homes and businesses as diverse as the Essex Inn in downtown Chicago and Schriever Air Force Base in Colorado Springs.
Want to see some of our custom designs in action? Visit our online portfolio to see examples of previously completed projects from around the country.
Patio Enclosures That Are Built to Last
Both residential and commercial customers can count on CCSI International for a quality product that respects your budget while delivering value and performance for years to come. Our glass enclosures are made with tempered safety side walls and corrosion-resistant aluminum framing. Roof paneling is impact- and- fire-resistant polycarbonate, and all connections are factory-welded for additional strength.
Available options include brick siding for additional privacy, single or double sloped roofs, and more. To find out more about what we can do for you, contact our office directly by phone or email.
Begin Your Build Today
CCSI International's garden and patio enclosures are attractive, useful and versatile spaces that can be enjoyed every day. Each of our enclosures includes a full, state-of-the-art engineering package meeting your design-specific requirements. We work with local installation crews around the country to ensure all projects comply with relevant building codes and other regulations.
We're proud to be your partner for every step of the build processes — from drawing up the initial plans to the moment you're ready to enjoy your new enclosed patio.
Contact CCSI International for more information or to order a custom patio, garden or atria enclosure.