Custom Patio Enclosures Bring Your Atria, Garden or Patio Activities Inside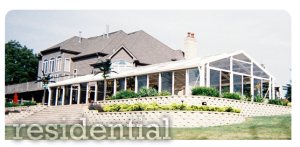 With a custom patio enclosure from CCSI International, a garden can be enjoyed all year round, even in the winter. Whether you have a hotel, restaurant, gym or office, we have a custom patio enclosure that would be the perfect addition to your project. We have both residential patio enclosures and commercial patio enclosures. Create an attractive, useful and versatile space that can be enjoyed every day. Browse our Portfolio to see our many beautiful patio dome installations.
A Custom Atria Dome Designed for Your Business
We offer a variety of modular configurations, so your builder or architect can choose a custom atria covering that is right for enclosing your patio or your space. Enclosed patio structure designs can include skylights, pyramids, hipped ends, labeled ends, domes and passageways. We also offer custom patio enclosures as free standing, roof only or attached structures as single-slope or double-slope designs. Find the custom patio enclosure for your project by calling CCSI International today.
Custom Garden Enclosures Built to Last
Every custom patio enclosure is custom-designed with ridge-aluminum-frame structures, glazed with high-tech polycarbonate, light-transmitting, structural sheeting. CCSI International internally manufactures all of the quality components. Our heavy-duty aluminum frames and rafters will stand the test of time. The high-tech baked-on powder coat finish for your custom patio enclosures is available in a variety of colors to perfectly complement your project. The perimeter walls utilize tempered safety glass and the roof panels are constructed of impact resistant and fire-retardant insulated polycarbonate. Each custom garden enclosure includes a full, state-of-the-art engineering package meeting your design-specific needs.
A Custom Glass Patio Enclosure with a Unique Opening Roof
Enjoy a custom glass patio enclosure that lets the sunshine and breeze in. The opening roof system consists of motorized roof panels that slide open and closed at the touch of a switch. Open the roof to allow for natural ventilation of clean, fresh air or simply close to lock out inclement weather.
Contact CCSI International for more information or to order a custom patio, garden or atria enclosure.