Oftentimes, guests will book hotels and resorts based on reputations for having clean rooms, friendly service and, of course, a killer pool. Take your clientele's wants, needs and desires into consideration. Is your hotel frequented more by families with children, groups of singles or couples looking for a romantic getaway? Once you know who you're looking to accommodate, choosing a hotel pool design will be simple.
Need a little inspiration? Here are 10 cool ideas for your hotel and resort pool design. And remember — if you build it, they will come.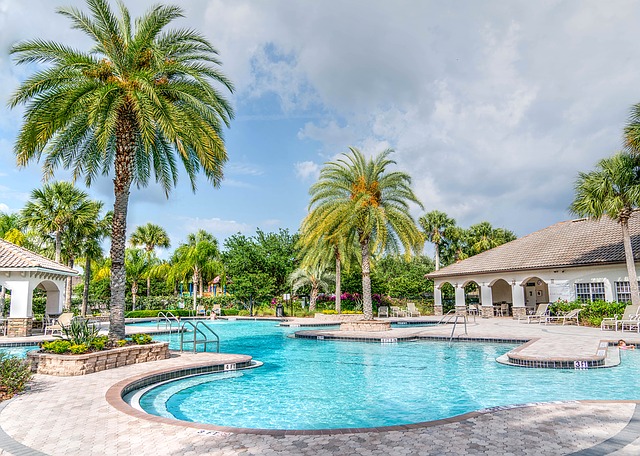 1. Swim Up Bar
If your hotel or resort is home to singles and couples looking to escape the trials and tribulations of their everyday lives, a swim up bar is exactly what your hotel pool design needs to make it stand out against the competition. Provide your guests with the escape that they're desperately looking for by offering both alcoholic and non-alcoholic varieties of popular cocktails and even travelers with families will appreciate the convenience of the in pool bar.
2. Infinity Edge
For resorts on the water, in the mountains or other landscapes that have clear horizon lines, adding an infinity edge to your resort pool design is a great way to incorporate the natural beauty of your location. This design is especially stunning against the backdrop of crashing ocean waves against the sand of a beautiful beach.
3. Overflow Sides
Enhance the esthetics and functionality of your hotel pool design when you incorporate overflow sides. Create a modern visual statement for your visitors by seamlessly connecting the water with the surrounding deck, while also allowing quicker water filtration to improve the cleanliness of the water.
4. Mood Lighting
Lighting is a powerful thing. Install both out-of-water and underwater lights to manipulate the mood and tone of your hotel pool. Create a serene escape with soft blue and green undertones or an atmosphere of excitement with red, orange and yellow lights brightening your pool from the inside out. Evening swimming will never be the same.
5. Diving Boards & Slides
Hotels that have pools that are deep enough to feature diving boards and slides should add them to their designs. Families, couples and singles will all enjoy the fun that these features provide. Build a speed slide and a twisting and turning tube slide to accommodate different thrill seekers. Make sure that this area is roped off to casual swimmers to ensure pool safety among your hotel guests.
6. Play Area
Put in a custom play area complete with shallow waters, stationary water guns, in-ground fountains and slides to accommodate families with young children. Depending on how in-depth your children's play area designs become you may want to think about designating an entirely separate space to this creation. Surround this area with a few tables and chairs for families to enjoy their breakfast, lunch or dinner without ever having to leave the pool.
7. Theme Layouts
Get creative and have fun with a themed layout for your resort pool design. Create a tropical escape for the adults or a fun circus underwater playground for the kids. Put a giant pirate ship right in the middle of your pool that guests can explore in search of treasure. Know your audience and choose a theme that meets their needs and desires and you'll be on your way to creating a pool that draws in a crowd.
8. Bathrooms
Just because your guests have a room at your hotel doesn't mean that it's close enough to be a convenient option when they find themselves in need of a restroom. Avoid the awkwardness of having guests strut in from the pool dripping water in your lobby by adding a few bathrooms near the pool.
9. Lounge Chairs & Cabanas
People stay at hotels and resorts for a multitude of reasons, but they all go to the resort pool for one of two reasons, either to relax or to have fun. Lay out lounge chairs around the perimeter of the pool to provide your guests with a comfortable place to lay back, relax and enjoy the atmosphere. Build a few private cabanas so that your guests can enjoy the exciting atmosphere of the pool and a little quiet time on their own if they so choose.
10. Hotel Pool Enclosures
Skip the costly expense of building an indoor and outdoor pool and instead opt for a commercial pool enclosure to provide your guests with the best of both worlds. Make sure that no matter what's going on with the weather, your guests can always enjoy your pool with a retractable roof pool enclosure that can be opened for those warm summer days in the sun, and closed in the chilly winter months! Interested in learning more about hotel pool enclosures? Contact CCSI for a free quote today!