Are you thinking about adding extra space to your home but you're reluctant to commit to a long and expensive home construction project? Consider adding a patio enclosure — a space that can provide you with the beautiful and comfortable area you want at a fraction of the cost of an addition.

Enjoy the Outdoors, All Season Long With a Patio Enclosure
Whether it's sunny and warm or snowy and windy, you'll appreciate the beauty of the outdoors in complete comfort when you add a patio enclosure. A climate-controlled, double-paned enclosure keeps your new space cozy during the winter and cool during the summer. You can also keep the party going even when it's raining, too — with no rushing to cover the cushions.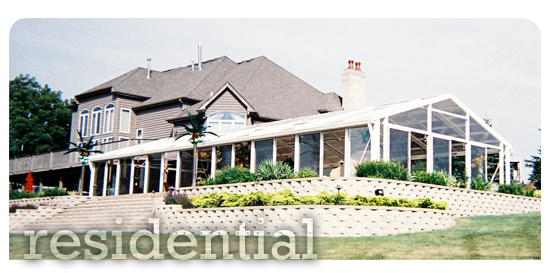 Keep Pests Away From Your Patio
Show mosquitos, bees, spiders, mice, birds, squirrels and other pests the door with a patio enclosure. Open the windows or retract the roof, and feel like you're outside without stings, bites or debris. You can even watch the sky at night and never worry about bats!
Enjoy More Privacy
Who wants to sit outdoors when nosy next-door neighbors interrupt at every opportunity? With a patio enclosure, you can enjoy the beauty of your property and hear the sounds of the outdoors with improved privacy. Read a book, catch the sun's rays or simply relax with friends — without any unwanted distractions.
Enhance the Value of Your Property
An expertly constructed and designed patio enclosure can add significant value to your property. With extra space and a beautiful design, you'll bridge the transition from indoors to outside with a pleasing space that satisfies your needs all year round. Plus, because sunrooms and enclosures are more economical than full additions, you'll get more value for your money — with less disruption and in less time. Start enjoying your new space sooner when you add a patio enclosure!
Protect Your Furnishings
Chances are you spent a lot of money on your outdoor furnishings. Wouldn't it be nice to protect that investment with less maintenance and less hassle? You can keep your outdoor furnishings in your sunroom and not worry about rain, mildew, dirt, droppings or debris. Use your outdoor space more frequently because you won't have to deal with the hassle of removing and applying expensive furniture covers, too.
Create a Versatile Space for Nearly Every Need
A sunroom answers several home design problems. Create a cozy family space with an outdoor feel. Enclose a hot tub or pool, and get year-round use. Design an observatory that lets you explore the skies and the trees in comfort. Your patio enclosure just may become the most popular room in your home!
For more information about designing a patio enclosure to suit your property, contact CCSI International today.