Year-Round Pool Enclosures
Don't close your pool at the end of the season! Your family can enjoy swimming every day of the year with an ideal solar environment pool enclosure from CCSI International. Relax in your pool while enjoying an environment free of inclement weather, pesky insects and debris. Pools with enclosures stay warmer, cleaner and safer, saving you time and money in pool maintenance and expenses. Homeowners benefit from not only the beauty and functionality that comes with adding an enclosure to a pool, but increase the overall value of their home. Browse our portfolio now to see our many quality installations.
Quality Pool Enclosures Designed for Your Project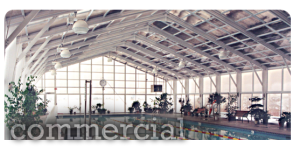 CCSI International creates the most state-of-the-art pool enclosures available on the market today. In fact, you can have one custom designed to integrate perfectly with the architectural design of your home and property. We can attach your custom pool enclosure to an existing structure or build one that is freestanding. Our corrosion resistant superstructure endures moisture and chemicals from pools, minimizing maintenance while providing long usable life. Each of our glass pool enclosures have a baked-on powder-coated finish available in a variety of color choices to complement your property. Call CCSI International today for more information about our residential pool enclosures and commercial pool enclosures.
An Enclosure for your Pool with an Opening Roof System
Consider a swimming pool enclosure with an opening roof system to enjoy your pool during every season. Manual or motorized, these unique systems allow you to open each panel individually to take advantage of natural ventilation. Fresh air is pulled in naturally, creating a comfortable environment. In inclement weather and throughout colder seasons, simply close the roof for protection and to continue enjoying your pool. Built to endure, roof panels are constructed of impact-resistant and fire-retardant insulated polycarbonate. With an opening roof system, a pool enclosure is light, airy and can be enjoyed year-round– whether you are in Texas, New York, or California!
Contact CCSI International for more information or to order an enclosure for your pool today.