A Swimming Pool Enclosure Makes Every Day a Pool Day
A swimming pool enclosure gives your family the perfect solar environment every day of the year. Maximize the usage of your pool by allowing your family and guests to swim during rain, sleet and snow by implementing a pool enclosure. In addition, a swimming pool dome keeps your pool area free from bugs and clean from leaves, debris and grass clippings. Protect your family and guests with a glass pool enclosure. Save time and money in pool maintenance and bug spray with a residential or commercial pool enclosure. A swimming pool dome is the perfect addition to your residential home or commercial property and an indoor pool enclosure will leave you enjoying your pool all year long.. Browse our Portfolio to see our many beautiful installations.
Swimming Pool Enclosures for Residential Customers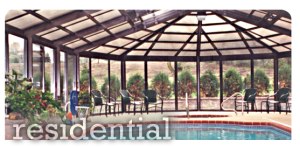 Swimming pool enclosures are no longer only for commercial customers. Create a whole new world for your family with our architecturally designed residential pool enclosures. Residential customers can benefit from CCSI International's most advanced swimming environments available on the market today. Discover the swimming pool enclosure that complements your pool style and integrates perfectly with your architectural design. We can attach an enclosure to an existing structure or build one that is freestanding. With a swimming pool enclosure, residential customers add value to their home, as well as beauty and versatility. Call CCSI International today for more information about our swimming pool enclosures for residential use.
A Swimming Pool Dome with an Opening Roof System
Bring the outdoors inside, but only when the weather is right. We offer swimming pool domes for residential customers with a retractable roof system. Manual or motorized, these unique systems allow you to open each panel individually to provide natural fresh air throughout. When weather becomes cold or stormy, close the roof for protection. Built to withstand the weather, roof panels are constructed of impact-resistant and fire-retardant insulated polycarbonate. With an opening roof system, a swimming pool enclosure is light, airy, fresh, and can be enjoyed every day of the year. Our custom pool enclosures are top of the line and sure to meet your most unique design needs. Contact CCSI International for more information or to order a swimming pool enclosure for your residential home or commercial property.