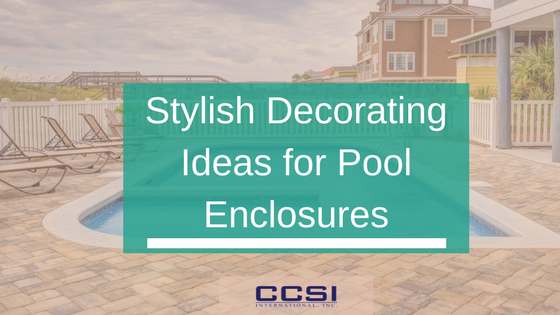 Do you have a pool at your home or business location? If so, it's probably because you love to swim as much as possible. While you might want to be in the water every day, some things can make it impossible for you to enjoy your pool as often as you'd like to. Helping kids with homework might get in the way of going for a dip. Business meetings that run late, traffic, sicknesses and pets taking unexpected and unaccompanied tours of the neighborhood are just a few other things that might interfere with your swimming plans.
While you can't avoid everything that might stop you from enjoying a swim, you can prevent some everyday interferences, including the weather. How can you do this? By incorporating some pool-enclosure decorating ideas into the layout of your pool and the area surrounding your aquatic oasis.
Pool Enclosure Decorating Ideas
Let's start the conversation by discussing a few screened pool decorating ideas for your home or business. A screen pool enclosure that uses screens to encircle your pool area might be enough if you live in a region without a lot of snow or freezing temperatures and you want to use your pool year-round.
If you're afraid that having screened walls around your pool will make the space too dark, don't worry! Simply place some plants and fruit trees around your pool to brighten up the area and filter the air.
You can also create a pool enclosure using glass walls. Like a screened pool enclosure, glass walls leave your view of the outside intact and don't obstruct the scenery.
Picking the right pool enclosure is the key to preventing certain interferences with your pool time. One way you can maximize the amount of time you spend in your pool throughout the year is by having CCSI install a retractable-roof pool enclosure at your home or business location.
Help Selecting the Right Pool Enclosure Design for You
When it comes to stylish pool-enclosure ideas, the sky is the literal limit. Pool-enclosure interior decorating is a matter of personal taste — there is no right or wrong way to go about it. Where you can go wrong, however, is by choosing a company without the experience to design and install a pool enclosure that creates the atmosphere you want and adds value to your residential or commercial property.
With more than 50 years of experience, CCSI has a demonstrated track record of installing attractive, long-lasting retractable-roof pool enclosures at both residential and commercial properties. The experts at our family-owned-and-operated business have been wowing homeowners and business owners for generations with their ability to make pool-enclosure decorating ideas a reality, and we can do the same for you.
Whether you want a screened-in structure or one made with glass walls, CCSI can install a retractable-roof pool enclosure that will remain visually appealing and practical for years to come. If you want to preserve your ability to make the most of nice weather and stop letting the elements prevent you from enjoying your pool time, contact CCSI. We'll present some stylish pool-enclosure ideas that add value to your home or business, enable you to enjoy your pool whenever you want and protect you and your pool time from the elements.
Contact the CCSI team for expert help and advice today!